. . . to brag about our new digs at
www.lascauxreview.com
. Here's an above-the-fold screen shot: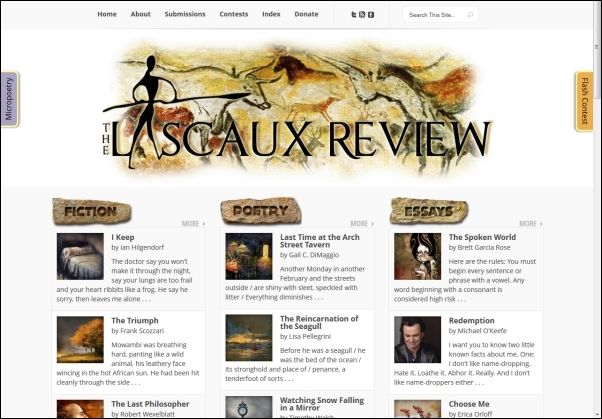 We continue to solicit stories, poems, and narrative nonfiction of literary quality. But now that we have more room we're seeking more stuff to furnish it with. I'll quote from the
Submissions
page:
For the "Du Jour" section of the review we're interested in book reviews, interviews of authors and other industry professionals, opinions and editorials, open letters to famous people, living or dead, and other creative works that might not lend themselves easily to categorizing. Anything that, after we see it we decide we liked it after all, even if we didn't think we'd like it before we saw it, is welcome.
We just celebrated our first birthday, and we have ambitious things planned for the coming year. We hope you'll stop by.
—Steve, Wendy, Paul, Pete, Jennifer, Erica, Alissa, Merry, Sarah, June, and Ginny.